A Step-by-Step Guide to Pro-aging from Ambassador, Tracey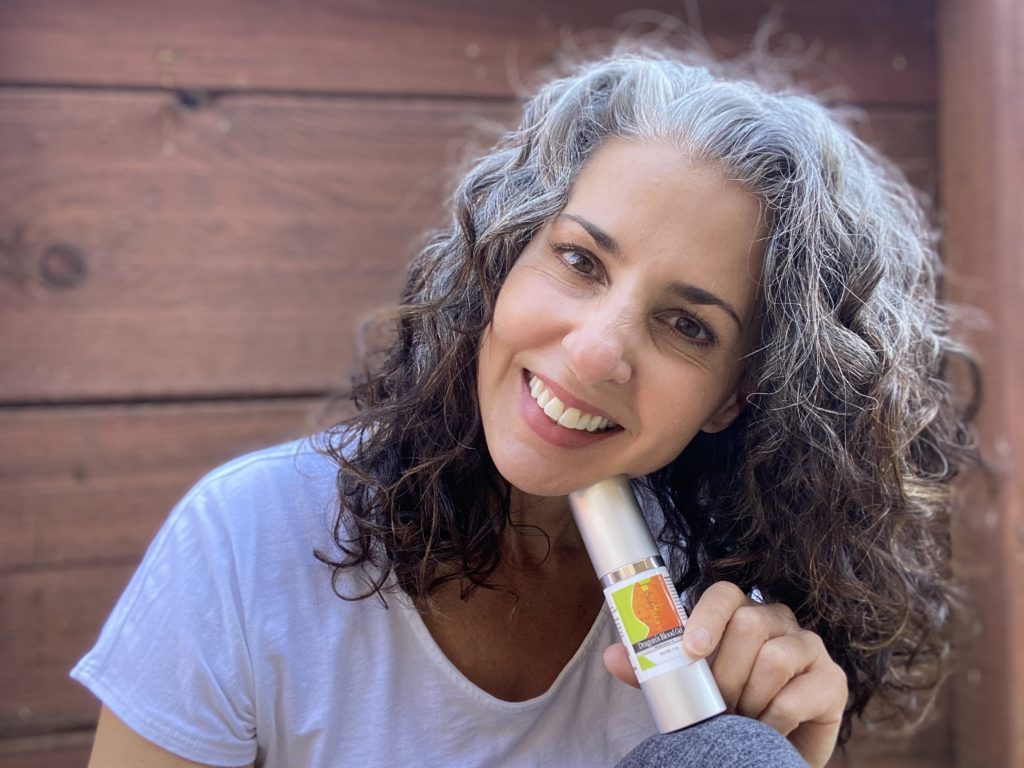 Tracey is a Swiss Botany ambassador who loves the Dragon's Blood Gel! 
Her pro-aging messages in her blog about transitioning from dyed hair to her natural hair color are positive and inspiring to so many women! 
The best piece of advice Tracey gives to women who are ready to stop dyeing their hair is to just go for it! 
Don't ask for permission to stop, but try it out for yourself and take it one day at a time. 
Eventually, those days, weeks, and months add up and you find that you have made substantial progress and adjusted to the look!
Swiss Botany relays the same exact pro-aging message with our products.
Just like Tracey, we also believe in aging naturally but with a beautiful skin.
How Tracey goes about her daily Pro-aging routine (A behind-the-scenes overview)
Before getting ready to go about her day, Tracey starts off her morning skincare routine with two amazing Swiss Botany products that compliment each other very well in Swiss Apple Stem Cell Serum and the Dragon's Blood Moisturizing Gel.
She puts on the Serum first and then layers the Dragon's Blood Gel on top of that.
After that she puts on her make-up and sunscreen and she's ready to start her day.
Pro-aging Tip one: The Serum comes first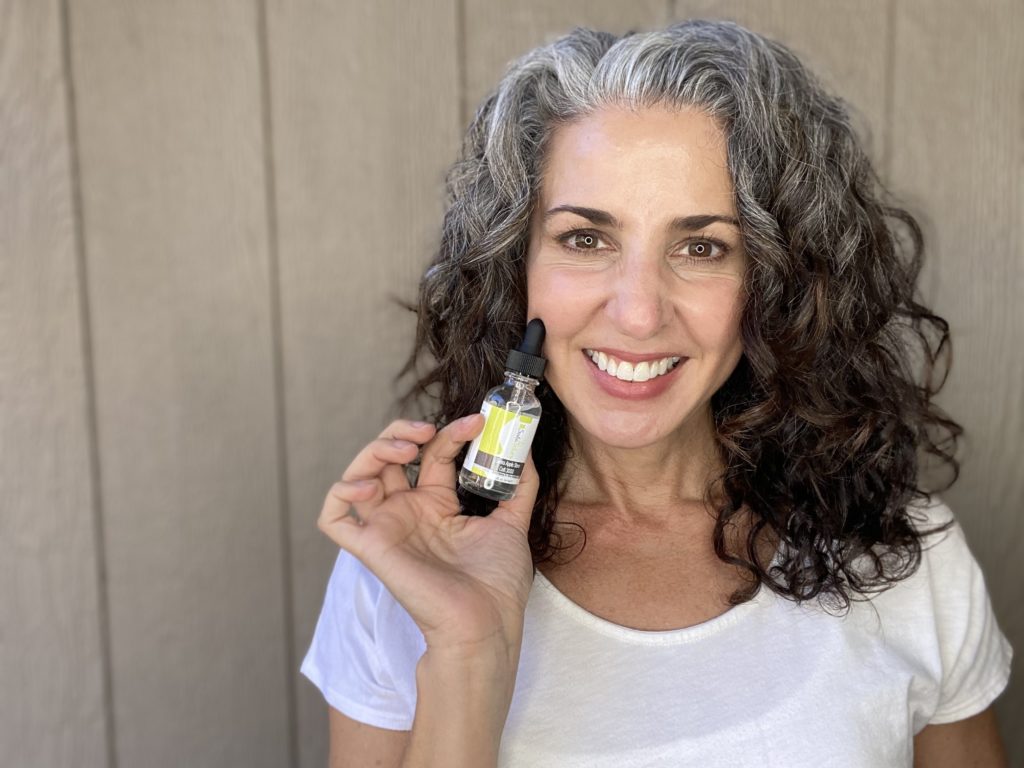 Tracey starts off with a couple drops of the Apple Stem Cell Serum onto her fingers.
She rubs to smoothen the serum and then spreads it all over her clean, dry face.
After a few minutes, she incorporates the Dragon's Blood Gel.
Just like the serum, she squeezes one pump of the gel onto her fingertips.
She rubs the gel together and gently massages it all over her face and neck which she says feels awesome and moisturizing on her skin.
And that's it!
The simplest pro-aging skincare morning ritual is now complete.
What these two products do is help to nourish the skin to maintain its health and radiant even in old age.
So someone like Tracey, who creates content around normalizing growing grey hair, fully resonates with these types of products.
After her morning skincare routine, she then goes ahead and applies her usual make-up and mascara, and starts her day glowing and beautiful.
Pro-aging Tip two: With Dragon's Blood Gel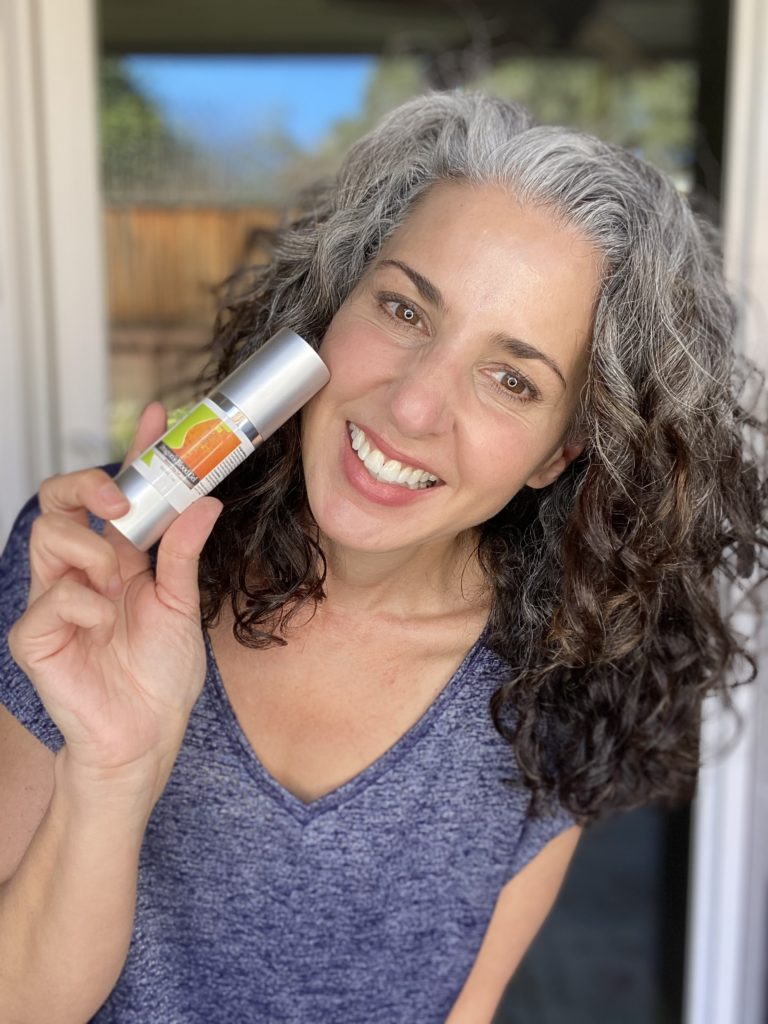 Tracey absolutely adores our Dragon's Blood Gel. Part of what appealed to her about Swiss Botany was the pro-age message that we stand for.
In case you didn't know, Pro-aging is a philosophy about being who you are in direct relationship with age.
And with Swiss Botany's Dragon's Blood Gel, Tracey's pro-aging message comes alive.
Now more than ever, intelligent people just like Tracey are able to not only be and look like themselves, but be better with enhanced beauty as opposed to trying to be someone that they're not.
It doesn't matter what age you are either. Swiss Botany is giving Tracey the green light to be more comfortable with her skin one product at a time!
We are moving forward and even at 52 years old, Tracey's able to show younger women that it's okay that they can still look beautiful in their 50's and way beyond.
This means that even in old age, you can still have a great skin which is super hydrated, looking healthy, and emanating a natural glow.
According to Tracey, the Apple Stem Cell Serum and the Dragon's Blood Gel are the simplest skincare routine she's ever incorporated into her day.
Pro-aging Tip three: 4 in 1 Skin care morning routine with Snow Algae & Green Tea Serum + the Winkle Wand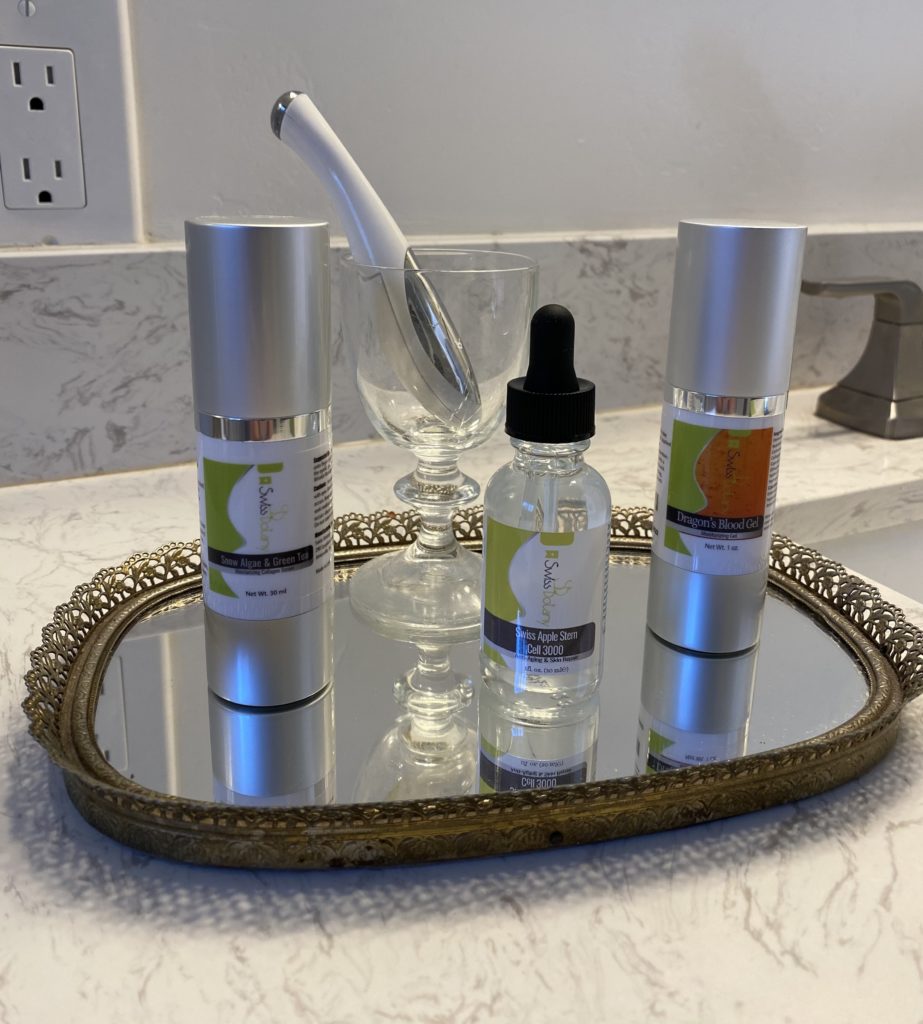 In just under 14 days of using the Apple Stem Cell Serum and the Dragon's Blood Gel, Tracey was completely blown away by the amazing results she was seeing.
During this time, she incorporated the Snow Algae & Green Tea Serum alongside that Winkle Wand for extra and faster skin enhancement.
Here is what she did:
As always, she used the serum first and let it soak into the skin for about 5-10 mins
And added the Dragon's Blood Gel on top of that.
At night, she used the Snow Algae and Green Tea Serum under her eyes in conjunction with our little vibrating Winkle Wand that you move gently on your skin to get the gel and serum to penetrate deep into the skin.
With these simple  3 step daily skincare habits, Tracey has seen her under-eye dry and flaky skin, sometimes puffy skin become completely moisturized and hydrated.
According to Tracey, when these 4 products are used together consistently, they can produce very astounding results.
Tracey says she never at any point experienced any redness or flaking — something that can happen with typical anti-aging products out there.
She continues to highlight that these products are the perfect pro-age catalysts that are designed to enhance the skin that you have, help it glow and be the best version it can be.
What Tracey tells her friends after 4 weeks of using the Dragon's Blood Gel
As mentioned earlier, the philosophy of pro-aging at Swiss Botany is one of the things that got Tracey to love our products from the get go. 
This philosophy appeals to her and her friends and followers.
Tracey represents a group of women who are growing out their natural hair, are proud of their age and the beauty that comes along with it.
And at Swiss Botany, we also embrace that belief.
So after 4 weeks of using the Dragon's Blood Gel at night and in the morning, Tracey's skin looks great, more like herself and less artificial.
This gel has shown some great results in her skin and she's happy to continue using it and sharing it with her friends.
This is what Swiss Botany products are created to accomplish — a pro-age agenda that shades light on what it looks to age normally, gracefully and beautifully at any age.
Using products like the Dragon's Blood Gel have helped Tracey look the way she wants to look,  beautiful at 52, with skin that is well moisturized and glowing. And not forgetting affirming her pro-age messages as well.
In conclusion, Tracey uses 4 products from Swiss Botany (The Swiss Apple Stem Cell Serum and Dragon's Blood Gel twice a day and the under eye Snow Algae & Green Tea Serum along with the Wrinkle Wand, once a day at night)
And that's it!
There's almost nothing easier than incorporating three products into your routine without any fancy schmancy stuff.
At Swiss Botany, we believe that if you want to look your best, you want to just enhance the beauty that you already have, no matter what age you are... and that's also what Tracey believes.
Be sure to follow Tracey on Instagram @greytransitionproject
---