The Power of Vitamin C in Anti-Aging
Vitamin C can provide many benefits for our body and skin, but many don't realize the power of vitamin C in anti-aging efforts. Sometimes, it's forgotten about and even neglected while popular skin enhancement products replace its role. However, we've gone through and outlined why vitamin C is necessary for getting rid of wrinkles and achieving smooth skin. Make sure your vitamin C levels are up so that you can gain a youthful appearance.
Vitamin C and Collagen
You've probably heard of collagen before and its role in our bodies. Collagen is the most abundant protein in our body and plays an essential role. It ensures that our skin is structured properly and upright. Our skin is tight and elastic because of collagen. However, without collagen, we'd experience wrinkly and saggy skin.
As we grow older, collagen production begins to slow down. This is normal for the body but can affect our appearance- we may notice wrinkles starting to form. This is why it is vital to keep collagen levels high, especially as we age. But how do we accomplish that? This is where vitamin C kicks in.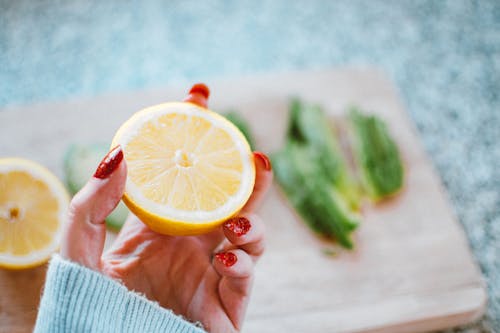 Vitamin C encourages the production of collagen in your skin so that you're able to achieve a youthful look.  The more vitamin C you have, the better your body will be able to produce collagen and use it to structure your skin. Unfortunately, lots of us have vitamin C deficiency even if we intake fruits and vegetables throughout the day. This is why other means of attaining vitamin C should be considered, like taking supplements or applying vitamin C topically.
In addition to helping with collagen production, vitamin C can also benefit your hair and enhance your nails. You should see a difference in your hair, skin, and nails if you're taking the proper amounts of vitamin C. It's worth mentioning that vitamin C is an antioxidant and penetrates deeply into the skin, resulting in noticeable and effective results.
Vitamin C Gel
Renew your look and maintain your vitamin C levels with Swiss Botany's  Vitamin C Eye Gel. This gel is perfect for removing wrinkles around the eye. It combats dark circles, puffiness on the skin, and fine lines that don't seem to go away. The skin around your eyes can make you look tired, dull, and even much older than you actually are if you're lacking in vitamin C. After using this gel, you'll be able to refresh the delicate skin around the eyes and get rid of wrinkles.
What makes the Vitamin C Eye Gel even better is that it is oil free and natural. It was designed with anti-aging benefits and even works as a skin brightener! It can soften and protect the eye area in addition to removing any lines. To use this product, we recommend making it part of your morning routine and using it again right before bed. As you continue to use the gel, you'll notice major differences in the skin around your eyes. Don't worry if you have sensitive skin- this gel is welcoming for sensitive skin as well. Give this gel a try and watch how well vitamin C will work for your skin!
---