Tips to Prevent Wrinkles at Night
Our skin is very delicate which means it can form wrinkles through different means- whether intentional or unintentional. This includes how we sleep. Certain ways of sleeping can cause us to form wrinkles. To combat this, we've come up with some tips to prevent wrinkles at night and keep your skin protected.
Sleep on Your Back.
Wrinkles can form due to a variety of reasons, including the way we sleep. It's often overlooked but the reality is that the more we compression, squint, and pressure the skin on our face, the more we're helping wrinkles to develop. Now, this doesn't mean they will form immediately, but over time your face will start to leave crease and lines of where you used to compress the skin on your face.
The compression occurs because of the way we sleep. Sleeping on our side can cause your cheeks to be pushed out of where they are normally positioned. Wrinkles can form as a result. To protect your skin from developing fine lines and wrinkles, consider changing the way you sleep at night. Instead of sleeping on your side, look into sleeping on your back. Sleeping with your face upwards will prevent any pressure on the skin and preserve your youthful face for longer!
Change Your Sheets
If you like sleeping on your side but don't want to get wrinkles, there may be another solution for you. An easy way for sleeping on your side but protecting yourself from wrinkles is by changing your sheets. Using a softer pillowcase will ensure that your skin is not being compressed like it normally is. Look out for silk sheets as they are soft and comfortable to use against the skin.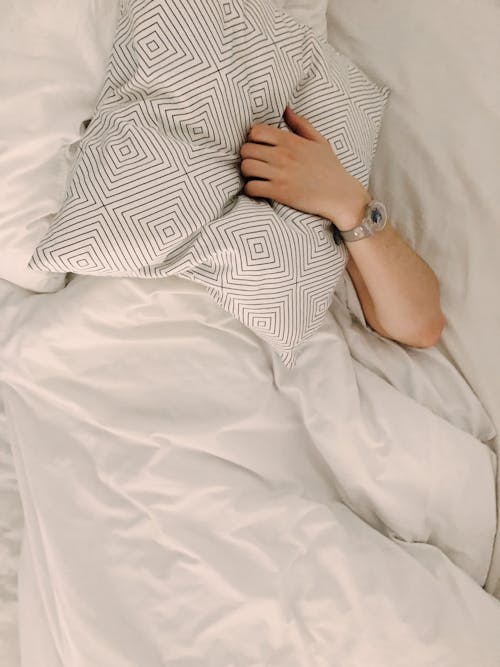 Apply A Cream Before You Sleep
Wearing a cream at night can help your skin absorb beneficial nutrients throughout the night and help you wake up glowing. You should be using a cream that is natural, delicate, and effective. Make sure that you don't use one that is greasy, or you'll end up with a mess when you wake up.
We recommend using our Retinol Moisturizer Night Cream for the best results. This cream is unique as it works both as a wrinkle-remover as well as a moisturizer for the skin. It will help your skin acquire essential ingredients like retinol to get rid of wrinkles and remain soft and smooth.
Get Enough Sleep
Beauty sleep is a real thing and can protect you from gaining wrinkles. If the body is low on sleep- even just a few hours- then noticeable wrinkles may start to appear. To get rid of these, simply sleep a few more hours. After a few weeks have passed, you should notice a difference in your skin. Aim for at least 7 hours of sleep each night if you can.
Conclusion
There are several things you can do to change your nightly routine to become wrinkle-free. Among these things, you can start to sleep on your back, change the type of sheets you have, apply a cream, and get enough sleep. Try to implement all of these changes and you'll see a noticeable difference in your skin.
---