Does Smoking Really Cause Wrinkles?
Smoking is known to be a negative habit for the body as well as the environment. It can harm your lungs, cause you to develop many diseases, and even affect your skin by making you look years older. You might be wondering, does smoking really cause wrinkles? We've found that smoking can impact negatively impact your body and result in a loss of youthful skin. Read on to learn more about how smoking affects your appearance.
Blood Flow and Nicotine
Blood flow to your skin is essential to maintaining a healthy appearance. Our blood carries oxygen as well as other beneficial nutrients that are necessary for our skin. Without proper blood flow, your body is at risk of becoming weaker and showing apparent signs of damage.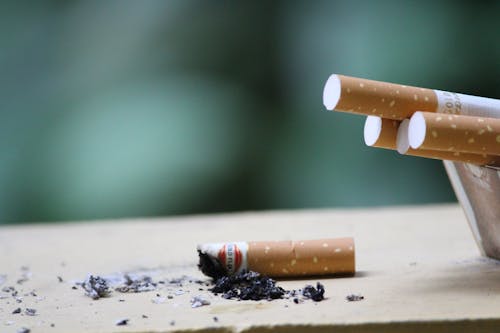 Different things can impact your blood flow or make it worse, like smoking. The ingredient that causes damage is the nicotine content inside a cigarette. Many people know of nicotine to be harmful due to its addicting effects which can stop someone from quitting their smoking, but nicotine causes additional harm to our blood flow as well. It targets blood vessels and causes them to become narrower. When this happens, our blood has a hard time reaching the rest of the body and can only do so in smaller quantities.
This is when wrinkles are formed. The lack of blood flow, oxygen, and vital nutrients cause the outer skin to become saggy. Smoking does actually cause wrinkles, and the effects can be very noticeable and unappealing. This is why it's best to stay away from smoking and especially the harmful drug nicotine.
How Do I Get Rid Of My Wrinkles?
Has your skin developed wrinkles? Not to worry, as there are ways to get rid of them effectively. One of our most popular products that combat fine lines and wrinkles is our Swiss Apple Stem Cell Serum 3000 Solution. This serum is excellent for getting rid of your wrinkles quickly. Using high-quality ingredients, it rejuvenates your skin while drastically reducing wrinkles. This product can also directly impact skin cells by helping them maintain a longer aging period. Cell production is also increased so that your skin can remove its wrinkles and return back to a tight surface. The best part is that it delays wrinkle formation, which means you'll have a youthful appearance for longer! We highly recommend this product if you need to get rid of your wrinkles quickly and easily!
Another product which is great for removing wrinkles is our Dragon's Blood Sculpting Gel. This product is natural, efficient, and highly sought after. While its main purpose is to reduce wrinkles on the skin, it can also help with acting as a natural filler for the lips, reducing unappealing eye bags and dark circles, and also getting rid of crow's feet. Using this gel will help you gain the maximum benefits of anti-aging. To gain even more from this product, use it alongside the Skin Therapy Ionic Wrinkle Wand for the best results.
---
1 comment
---
---