Hyperpigmentation can affect us in lots of ways. We may have darker skin patches or experience spotty and saggy looking skin. While products have been made to combat hyperpigmentation, there are other ways to maintain it, like the food we eat. The way you eat affects how your skin looks as well as the color pigments in it. Learning about how food affects hyperpigmentation can actually help you reduce your skin damage and achieve a lighter, natural skin color.
What Is Hyperpigmentation
Hyperpigmentation is a skin condition which causes the color pigments in your skin to grow excessively, causing your skin to become darker as more pigments are created. It is usually a harmless condition, but it can be annoying to find that your skin is darker in some areas and doesn't match your natural skin tone. You can read more about hyperpigmentation and how it affects your skin here.
Important Foods for Skin Enhancement
Time to get into the fun stuff, food! The foods we eat impact our internal health as well as our outer appearance. To look and feel better, it's essential that you're eating proper food that can help you with your hyperpigmentation. We recommend you focus on natural foods and those that contain essential vitamins for skin health.
Vitamin C is a well-known nutrient that aids not only in skin health but other functions too. To enhance your skin and lighten dark spots on your skin, we recommend that you consume foods like oranges, lemons, tomatoes, and papayas. These foods will help you get rid of your hyperpigmentation spots and target the areas that have skin damage.
Vitamin A is also excellent for helping your skin as well as other parts of your body. Some foods that contain vitamin A are broccoli, sweet potatoes, spinach, and lettuce. Eating these foods can reduce your hyperpigmentation and give you natural skin.
Vitamin E is essential for skin enhancement as it can lighten the dark areas on your skin and give you an even tone. It is found in many skin care products as well because of its effective properties. Vitamin E can be found in foods such as peanuts, avocados, and almonds. Be sure to eat regular amounts and you should notice a difference in your appearance!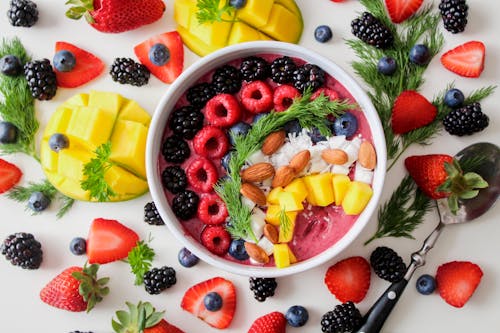 The foods mentioned are excellent for lightening your skin and removing hyperpigmentation. If you'd like to try products that have vitamin C, you can check out our Enhanced Skin Brightening Vitamin C Gel. It penetrates deeply into the skin and cures damaged areas, leaving your skin bright and natural. You can use this product in addition to taking vitamin C orally through different foods.
Conclusion
There are many ways to maintain your hyperpigmentation and consuming the right foods can help you reduce it. Lightening the dark spots on your skin is key to getting rid of hyperpigmentation and gaining an even skin tone. If you'd like to read more about skin lightening, as well as skin whitening and brightening, we recommend you look at this article.